Chronos and Creed Beard Straightener
BE SURE TO SELECT CORRECT PLUG TYPE WHEN ADDING TO CART
Never Have a Bad Beard Day Again! 
Are you fed up of your uncontrolled, curly and inconsistent beard? Do you have that section of hair that wont cooperate? You're not alone - 80% of men say it's their biggest frustration with their facial hair and in a recent interview 75% of women admitted they find messy beards unattractive.
 Guys it is time for a change and this is the solution.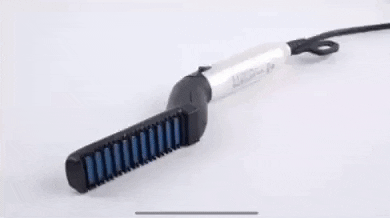 Combining the functionality of a hairbrush with the power of heat, the Beard Straightening Comb restores your beard to masculine, groomed perfection in just a matter of seconds!
 The design is simple and easy to use. We've implemented the technology of negative ions which makes this a safe and healthy process. A technology that can tame and control ANY thick and crazy beard. 
 In just 30 seconds, you'll have a soft and smooth beard that looks good enough to run your fingers through.
Currently On Sale, Buy Yours Today!
 How To Use: 
Turn the power on.
Preheat for ~15 seconds and install the comb.
Check whether the comb is tightly locked before use.
Comb through hair in desired direction.

Features:
Non-Damaging Design: The implementation of negative ions prevents heat damage from occurring. You can safely comb your beard daily for a sleek, polished look.
Innovative Heat Barrier: The bristles of the comb glide effortlessly through your beard hair and scalp without causing damage to the skin.
Effortless Style that Lasts: It doesn't matter how unruly your beard is, this comb easily smooths your whiskers and the style lasts and lasts.
Multi-Functional: After you've tamed your beard, go ahead and use the comb on your hair, too!
Quick-Heating Mechanism: Comb heats up in a New York Minute! 15 seconds.
Lightweight & Ergonomic: Very comfortable to hold and easy to control during combing.
SPECIFICATIONS:
Size: 26.5cm x 5.5cm x 8.1cm
Optimum Temperature: 120 degrees

PACKAGE INCLUDES:
1 x Quick Hair Styler for Men (With cable)
 RECOMMENDATIONS:
Do not directly touch the heat plate